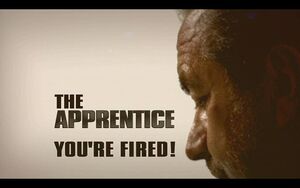 The Apprentice: You're Fired! is a spin-off series of the British version of The Apprentice. It began airing in 2006 to supplement the second series of The Apprentice, and from then to the end of series five has been hosted by Adrian Chiles. It has since been confirmed that from series six onwards, Dara O'Briain will be replacing Chiles as he has left in favor of a new four-year contract with ITV[1]; a transfer he has admitted to being "absolutely delighted" with as a direct result of plans[2] of replacing him with Chris Evans on Fridays. BBC Two controller Janice Hadlow has remarked "I'm thrilled to have Dara on board. His unique style of quick-witted banter is ideally suited to the job of probing the latest casualty of Lord Sugar's infamous firing finger"[3].
The first run of The Apprentice: You're Fired - i.e., the series pertaining to series two - was broadcast on BBC Three. However, it has since been shafted to BBC Two.
Since it's third run (series four), The Apprentice: You're Fired has hosted a part of it called "The One That Got Away" that lists the candidate that was the second closest to being fired.
Format
[
]
The programme is filmed in a studio with an audience present. Adrian Chiles addresses the viewers directly and he will sit around a large desk with the latest candidate to be fired and three guests who are usually notable media personalities or successful business people who are also fans of the series.
The programme is made up of discussion between the ex-candidate, Chiles and the guests who will question where the candidate went wrong in their decisions which led to their firing and how they could have acted and possibly remained. The guests will also criticize some candidates as will Chiles if they are not very popular or notorious for their on-screen actions such as Jenny Celerier and Michael Sophocles, the latter being called "an odious little twat" by Chiles in one programme.
Scenes which were not aired in the final programme are also aired At the end the audience are invited to hold up cards which read either "Hired!" (green) or "Fired!" (red) which show if the majority of the audience believe the outcome of the boardroom was either fair or unfair.
There are also a number of clips played in montages of various things (often comical) which have been picked up on such as what come across as catchphrases from candidates and running gags which have been seen throughout an episode. There is always a final montage which show the fired candidates best bits on the series.
Final programme
[
]
The finale of the series, renamed The Apprentice: You're Hired! in reference to Lord Alan's final choice as an apprentice. In this there are no guests but instead Sir Alan Sugar is present along with his newly hired apprentice, the runner up however will be interviewed prior to this. Chiles still presents this. The audience is also made up of all the previously fired candidates from the current series unless they cannot attend (for example Nicholas from series four, who had a building collapse on top of him and was thus unable to attend. A cut-out of him was held up instead). There is also a montage of the entire series shown.
References
[
]