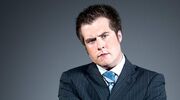 Stuart Baggs, 21, was a candidate on series six of The Apprentice. For that matter, The Apprentice's youngest ever candidate. He used to sell yo-yos in his school's playground and loves fast cars, adrenaline and technology. By his own admission, he has "no sense of political correctness". He erected his own telecommunications company when he was just 19 and is a keen adrenaline junkie who enjoys powerboat racing, rock-climbing and abseiling.
Stuart has been criticised by the other candidates for his arrogance. Jamie, after hearing Stuart accuse a bystander of resembling "a sausage connoisseur[1]", resulting in a verbal armageddon between the two of them[3]. His arrogance is verified again after Stuart put absolutely nothing in his suitcase when going into the boardroom. (Lord Sugar was pretty close to firing both Dan and Stuart.)
It has since been divulged that Stuart had the skin of his teeth between him and expulsion when it was divulged that he had hacked his school catering system, giving him free food for a number of weeks before finally getting caught and being given 'a severe ticking off'.[4]
Ignorant of the above, Lord Sugar has said to Stuart "In the past few weeks some of the stuff I've heard coming out of your mouth has been a lot of hot air. So in the interest of climate change, just make sure you think before you speak"[5]. Being as arrogant as Stuart is, he has spilt the beans on what those boardroom episodes have done to him:
"I've definitely got the upper hand now over everyone. It's really important to know how the boardroom experience works. Now that I've got that experience and came within a whisker of being fired, I am probably in the strongest position here. All I have to do is improve and take on what Lord Sugar said and I'm pretty much immune from the boardroom from now on.[6]"
On Friday the 31st of July , Baggs was found dead at the age of 27.
Community content is available under
CC-BY-SA
unless otherwise noted.