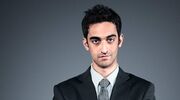 Dr. Shibby Robati, 27, will be a candidate on series six of The Apprentice. He reckons he's a handy impressionist and comedian[1]. He is a qualified surgeon and owns two businesses which made £150,000 turnover and in excess of £80,000 profit in it's first year alone. He credits this, along with many more of his successes, to self-awareness; i.e., knowing his own weaknesses[2].
Since airing of the premier episode the dirt has been dished by controversial tabloid The Sun regarding his unprofessionalism whilst at work; the General Medical Council had cautioned him over a plethora of flaws in his work manner including not appropriately communicating with his colleagues, failing to keep accurate reports, not making himself readily available whilst on duty and accepting shifts at two seperate hospitals at the same time[2], resulting in a whole lot of trouble. One of the paper's sources went as far as to say "Find a doctor that worked with him and you'll struggle to find anyone who has anything good to say".
Shibby was fired week three. After being fired, he declared his support for Stuart and Chris[3] and has joked about Nick Hewer's comment of his management of the team being "a bit floppy" asking "Do you think he was trying to say I was a bit of a penis?[4]".
References
[
]