The Apprentice episode

Rennaisance's ironic eco-friendly card in the making
Week Six
Version:

UK Series

Series:

Series 4

Task:
Design a card for a new occasion
Project Managers:
Michael (Alpha)
Kevin (Rennaisance)
Team Changes:
Michael moves to Alpha
Fired:
Kevin
Airdate:
April 30th 2008
Series Four Tasks:

Selling fish

Laundry service

Running a restaurant

Running a photography stand

Create and sell new ice cream flavours

Design a card for a new occasion

Create a new fragrance for men and host an advertising event
Week Six marked the halfway point of the series, and saw the teams creating a new occasion and designing cards to go with them.
The Task
[
]
Alpha
[
]
Alpha came up with several ideas early on, including ones for cosmetic surgery, alien visits and a "Singles Day." After doing some market research on Oxford Street, they decided to go with the Singles Day idea, setting the date for February 13th, and Michael assigned Raef to do the presentation, Jennifer, Helene and Lucinda to handle the photo shoot, and Lee to oversee the card design.
On the second day, despite not getting clear instructions from Michael the girls handled the photoshoot well. In the meantime though, the card designers spent three hours deciding where the apostrophe in "National Singles'/Single's" day should go. At one point, Michael unsuccessfully attempted to contact William Lewis, the editor of the Daily Telegraph and ask his advice on the matter. Despite Helene saying there shouldn't even be an apostrophe and Jennifer suggesting changing the name to "National Single Day," Michael decided to call it "National Singles' Day," which fortunately was grammatically acceptable.
Alpha's first pitch, to Clinton Cards was not well received, with the date seemingly turning the retail buyers off the idea, as it would have been in conflict with the more popular Valentine's Day cards that would be stocked at the same time. Their second pitch, to Tesco met with much the same result, and they were also unable to answer the question of who would be sending the cards. Over Raef's objections, Michael decided to remove the date from their final pitch, to the Celebrations Group, and at the pitch said they wanted to work with Celebrations to find a date that would suit them.
Renaissance
[
]
While Renaissance came up with a few early ideas, Jenny forcefully pushed her idea for a "Love Our Planet" card that promoted environmental messages, and after some market research, Kevin agreed to go with this idea. He decided to pitch to the retailers himself (despite Claire and Jenny volunteering to do it) and also oversee the card design, with Jenny, Claire and Alex handling the photo shoot.
After producing their cards the following day, the team seemed confident in their card designs, but Kevin was having some doubts about doing the pitch. He asked if Claire or Jenny would help him, but they both refused to do so and so Kevin decided to press on by himself. Margaret wondered about the wisdom of created mass-produced printed cards to promote an environmental message, but none of the team seemed to think there was an issue here.
Their first pitch was also to Clinton Cards, where they heavily pushed their environmental message (including Jenny stating that she didn't buy greeting cards any more because of the waste they created) and claimed that there was an unlimited market for the card, since so many people are concerned about the environment. The buyers didn't see the point of the card, and called attention to the fact that they carried patronizing messages (such as telling people to take showers instead of baths, so as to waste less water), but an undeterred Kevin told them that if they didn't support the idea, it was just as bad as the USA's refusal to sign the Kyoto Treaty, leaving the buyers looking visibly shocked. The next pitch, to Celebrations didn't go much better, and Kevin was clearly disorganized, claiming that there were all sorts of additional merchandise opportunities for the Love Our Planet card, further flying in the face of the message they were trying to put over. On advice from Claire, Kevin toned down their final pitch, to Tesco, and it was received somewhat better.
The Boardroom
[
]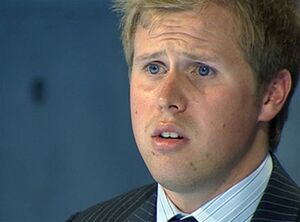 Alpha's wasted time trying to work out where the apostrophe should go was bought up by Nick, and Sir Alan doubted the wisdom of the environmental cards, telling Renaissance that greetings cards were supposed to be for celebrating an occasion, not for preaching to people.
The results were then announced: Tesco bought 6,000 cards from Renaissance, and 1,500 cards from Alpha. Clinton cards bought nothing from Renaissance, and another 1,500 from Alpha. Celebrations also bought no cards from Renaissance (meaning that their initial 6,000 card order from Tesco accounted for their entire sales total), and 19,500 cards from Alpha, single-handedly giving them victory. Michael loudly celebrated this victory in the boardroom, and apologized after being chided by Sir Alan. Alpha were sent off for their reward (a private recital with Myleene Klass), while Renaissance were sent to discuss their failure.
Back in the boardroom, Sir Alan said that while the environment was an issue, there were more pressing ones that they could have designed cards around, and also pointed out that they'd be worsening the problem with mass-produced cards. He went on to reveal that Celebrations and Clinton Cards had given very unfavourable reports about Kevin's pitching, and that in particular Clintons accused him of preaching to them and behaving arrogantly. Sir Alan went on to ask if anyone else had volunteered to do the pitching, and Claire and Jenny said that they both did, only for Margaret to point out that a presentation by Jenny might have been even worse than what Kevin did, seeing as she told Clinton Cards that she wasn't buying cards any more because of her concerns over the environment. Sir Alan couldn't believe that Jenny still didn't see the contradiction in terms between this statement and the idea, and seemed to be holding her responsible for the defeat. After this, Jenny turned on Sara, saying that she had contributed nothing to the task. Despite Sara trying to point out that Jenny had pushed her idea over everyone else's and that Kevin had not assigned her any important tasks, the rest of Renaissance followed suit and unanimously agreed that Sara deserved to be fired. Sir Alan warned them that he could tell that they were ganging up on Sara and that he didn't really believe what they were saying, but Kevin decided to bring her back into the boardroom anyway, along with Claire.
Sir Alan asked why Claire hadn't stepped up to do the pitch when Kevin asked for her help, and why she was blaming Sara. Claire didn't answer the first question, but told Sir Alan that after each task, Sara had claimed to have had some good ideas, but never been allowed to vocalize them. Sara defended herself by pointing out that Jenny and Kevin were responsible for the task's failure by choosing a bad idea and then pitching it poorly. Sir Alan accused Kevin of being a weak leader and allowing Jenny to force her ideas through, prompting Kevin to (almost tearfully) insist that he had been in full control of the team throughout the task. He also asked to be made project manager again for a future task, which caused Sir Alan to point out that he had failed badly as leader in this task. Sir Alan advised Sara to take a more active role in future tasks and Claire to help out in areas that she is experienced in; he then branded the whole task "a fiasco" and told Kevin that he deemed him fully responsible for the task's failure before firing him.
Back at the house, Lee, Alex, Michael and Jenny verbally attacked Sara, saying the she should have been fired and not Kevin. Claire defended Sara by saying that she had not made any of the major mistakes in the task (Lucinda supposedly did so as well, but this was not shown in the episode), but Jenny furiously told them that she considered not taking enough of a part in the task to be a worse crime than making actual mistakes. Raef attempted to stop the argument by saying that Kevin had been held responsible by Sir Alan and that there was no need for further discussion; however, the argument was still seen to continue as the episode ended.