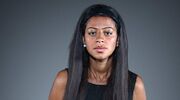 Joanna Riley, 25, will be a candidate on series six of The Apprentice. She rose from humble beginnings to corporate success with her cleaning company[1] having previously worked as a hotel waitress[2] and describes herself as "honest, direct and funny"[1]. She is originally from Leicester and is inspired by her twin sons[2].
Just before the series was about to premier, it was revealed that Joanna, amongst others, had a criminal conviction; in 2005, Joanna abused three taxi drivers in a drunken rampage going as far as to call one of them a "fucking dirty paki"[3] and was given a two-year conditional discharge. This was after the driver made an "extremely provocative, sexist and insulting comment"[3]
On week one, she became team leader and led her team to victory[1]. Week two, however, was not her week; after incessant head-bashings with project manager Laura, Karren Brady stepped in to blast the girls[note 1] and was cautioned that she would need a "remarkable recovery[4]" if she wanted to survive much longer in the competition.
Notes
[
]
↑ Karren: "Can I just say something? You are representing businesswomen today and I have to say that it is outrageous the way that you are behaving. 70% of my management team are women and I've never come across anything like this. I think you have to remember who you are representing in this process, young women out there who want to have an opportunity like this. You should set an example."

Lord Sugar: "Some people get confused and think this is all about who can shout loudest and that is not what I'm looking for. All I'm hearing is a group of ladies in turmoil."

"Listen to Karren's words. I think that's the most sensible thing said here today."
References
[
]