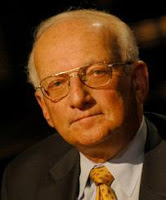 George H. Ross (born 6 January 1928) is Executive Vice President and Senior Counsel of the Trump Organization. He served as a Boardroom adviser to Donald Trump during the first 5 seasons of the US version of The Apprentice.
Education and career
Edit
Ross went to Clemson University and Brooklyn College and earned his law degree from Brooklyn Law School. He was admitted to practice in New York State in 1953. Ross said that he has known Trump since the 1970s, when he was a lawyer in a firm with which Trump was negotiating a deal. They became friends, and Ross represented Trump in several major real estate deals in the 1980s and 1990s. In 1996, when Ross had become bored with his legal practice, Trump offered Ross a job.
Ross said of his boss, "I think I know his mind as well as anybody else. I know what he wants. He gives it to me, and I can take it from there. He does not micro-manage. He deals in broad strokes. I love it."
Trump said of Ross, "He's tough, firm but fair, a very brilliant lawyer, and I trust his judgment."
Personal life
Edit
Ross is Jewish. He lives on Long Island, is married and has two children and three grandchildren. He enjoys tennis and golf, and teaches courses in negotiation and real estate transactions at New York University. He is the author of two books, Trump Strategies For Real Estate and Trump Style Negotiation.
He is not interested in retirement. "I'm having too much fun," he said. "It keeps you young."
Community content is available under
CC-BY-SA
unless otherwise noted.