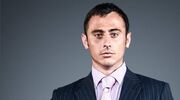 Christopher Farrell, 28, will be a candidate on series six of The Apprentice. Previously, he worked as a Royal Marine Commando who has served his country from 1998-2008[1] having seen action in Iraq, Northern Island, Kosovo and Afghanistan and for the last two years has worked as a mortgage broker. He describes himself as "focused and driven" and is originally from Cheshire. He is also enthusiastic about health and fitness[1][2] and is a keen golfer[1].
Less than a week before broadcast of the premier episode of series six it has been revealed that Farrell has a heavy criminal record; he was taken to task by the police in September 2009 after he was caught in possession of an extendable baton and a knuckle duster[3], he is at current being taken to task again due to his financial irregularities[4] and was fired three months into his first job for watching adult pornography whilst at work[5]. This has caused much embarrassment amongst the BBC.
References
Edit
↑ http://www.digitalspy.co.uk/tv/s108/the-apprentice/news/a279292/apprentice-candidate-hid-conviction.html
↑ http://www.digitalspy.co.uk/tv/s108/the-apprentice/news/a279620/apprentice-hopeful-on-bail-for-fraud.html
Community content is available under
CC-BY-SA
unless otherwise noted.